Hire us for residential or commercial cleaning, and enjoy the peace of mind, excellent work and customer service and cost savings you will get when when you hire a Mold Busters specialist.
Call (864) 301-4600 for a free phone consult

.
You can trust the experts at Mold Busters for mold mitigation. We specialize in attacking all types of dangerous molds, including those that are highly resistant to cleaners – which means you'll need a different approach than what your local home improvement store offers! Our team will determine where each type exists within your house so we know how to best go about eliminating them without sacrificing structural integrity or precious belongings.
Our specialists have years' worth of experience cleaning up properties after they've been damaged by hazardous mold growth. This ensures our customers always receive high quality service that is also affordable.
If you haven't spoken with an expert yet, or need a second opinion, call us now to get your questions answered and get a free consultation with a technician who's daily job it is to inspect, bid and clean homes of toxic mold. You'll be glad you did… 864-301-4600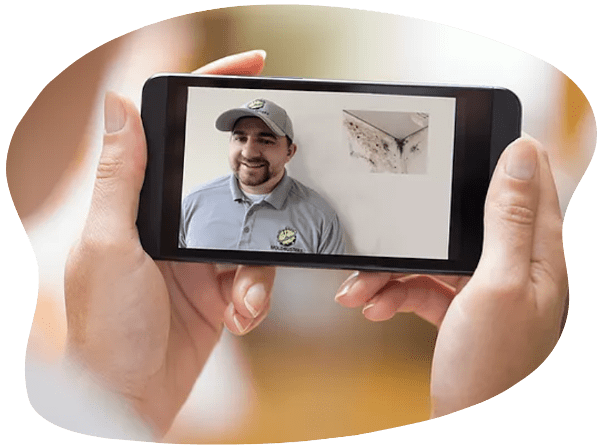 Its Safer to Clean Sooner than Later
If you see mold or suspect it exists in hidden places, address the issue immediately: deal with it yourself or call a professional to treat large areas affected by moisture.
Mold can be a huge problem for your residential or commercial location, and it needs to be taken care of quickly before health or structural issues arise. Our local team is nearby and is licensed and certified to clean up any type of mold. We strictly adhere to South Carolina codes and will complete the disinfection and purification of all surfaces, and the entire volume of your air quickly and economically. This way you can affordably get to life or business as usual, as quickly as possible.
Mold Buster's is the nation's premier mold sanitation company, and our background allows us to handle any job of any size from a a small 1000 sq ft condominimum to a 500,000 square foot government building. No matter what type of space needs attention- from residential homes anywhere in the greater Greenville are to commercial buildings like restaurants or office spaces–we have experienced contractors ready with state-of the art expertise who will get the job done safer, sooner!
We also offer emergency services should disaster strike; let's put your mind at ease by working together to clean up any visible or hidden mold quickly.
The Dos and Don'ts of Cleaning Up Mold
Do Get Rid of the Moisture Source
This really goes without saying. Nothing is more important than eliminating the source of water that gave and is giving life to continued mold sporing and growth. Even if you did no mold cleanup, you will have made a big difference just by stopping any additional mold growth.
\
Do Dry Out Any Moisture
Fans and dehumidifiers should be used to extract all moisture from any substrate or other materials. Eliminating all water is Goal #1.
\
Do Throw Away Deeply Soaked Materials
If moisture has soaked in deeply, then mold has likely grown in deeply. You can dry furnishings, furniture, wall substrates and 2x4s til they are bone-dry. But if mold has grown to the center of any of these; throwing away these thoroughly soaked materials is the safest choice.
\
Don't Use Bleach
Use detergent instead of bleach to kill mold. While bleach will kill living mold, it is completely ineffective against mold spores. It has been shown that if bleach is used with lots of water, you can actually make things worse. The water will hydrate the mold, more than the bleach will kill it, and any work done with bleach will be for naught.
\
Don't Clean Up Mold Without Protection
When cleaning up mold, it isn't worth the small time and cost savings of not putting on a tight-fitting mask. Studies have shown that health effects can occur even years after mold exposure. We are exposed to mold every day of our lives in small quantities, but you don't want to expose yourself to where you experience a "tipping point" and your body then takes years to get rid of it.
Click here to compare different solutions for killing mold.