Schedule a Mold Removal Estimate + Inspection
Call (864) 301-4600 to Speak with a

Mold Inspector.
In a Hurry? Book an Appointment Now!
Are you experiencing health symptoms you think could be related to toxic black mold or other molds in your home or work? Or have you found mold growth, and wonder if there is more that you can't see?
If so, its time to have a certified technician discuss your options with you.
We offer both in-person and virtual inspections and estimates. If you want a quote immediately, contact us and we will send you a "zoom link" for a virtual inspection. If we have an opening, you could have an estimate within the next 30 minutes.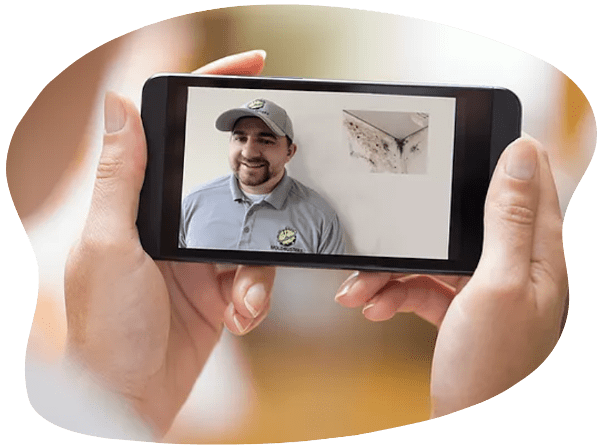 If the mold is visible, or if you have questions you'd like to ask a certified mold technician, a virtual inspection is a quick (and free!) way to discuss the remediation process without the often-inconvenient interruption of preparing for a service call. Most virtual inspections last an average of 15 minutes and at the end of your chat, you'll receive a free emailed estimate of the cost of remediation.
In-Person Mold Inspections
In some cases, an in-person visit may be preferred. Often, an in-person inspection is scheduled in conjunction with an air test or in situations where the suspected mold can't be visually confirmed through chat. Whether you're meeting with us through video or in-person, you'll receive professional, prompt service from start to finish!
Once you have confirmed you have mold, next step is mold remediation, click below to learn more about our mold removal…
CALL (864) 301-4600, FILL OUT THE FORM, OR CHAT WITH US BELOW TO SCHEDULE A VIRTUAL OR IN-PERSON INSPECTION